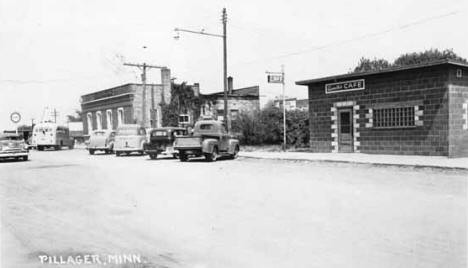 Pillager 1957
Despite boom and bust of logging

Pillager survived

---
Just two miles down the road from Sylan is Pillager and ten miles from Brainerd.
Pillage, a city in Sylvan Township, the adjoining Pillager Creek, and the lake of this name at its source are derived from the term Pillagers, applied to the Ojibwe of this vicinity and of the Leech Lake Reservation. Pillager was first settled in 1886 with a station of the Northern Pacific Railroad, a general store, a hotel, and a blacksmith; it incorporated as a village on September 4, 1900; its post office was established in 1886.
Leon Lum, a noted name in the Brainerd area and the man for whom Lum Park is named, originally platted Pillager and his name lingers in graceful script of fading ink on land records such as warranty deeds, some dating to the summer morning of June 1902.
The country was inhabited by the Ojibwe and, later, also by fur trappers of European descent. The trappers gave way to the loggers and the loggers gave way to the farmers. August Satter, was a farmer and worked in the Gull River sawmill as a saw filer.
Chief Hole-in-the-Day's band had a winter camp near the Satter home. They dug pits, some four feet into the ground, and the covered the top. The Satters traded with the Indians when they first came to the area. Farm produce and furs exchanged hands between the wintering neighbors.
Pillager served as the railhead for two years before the tracks moved on to Motley and then Staples. One story recounted the demise of the first locomotive that cross the bridge it fell through and into the river.
The town itself had a nearby stockyard where cattle were shipped first by rail to South St. Paul. In the late 1930s, trucking took over. Pillager had a hotel, hardware stores, pool hall, barber shop and cafes. Other business enterprises included a bank and lumber yard and later a company that manufactured minnow tanks. But one by one the stores closed. Cars created greater access to shopping in Brainerd. The train center moved to Staples. The Great Depression was hard on the town, eggs were traded for groceries and creameries took in cream from small farmers.
That's what kept the town alive -- the shipping association and the creamery. The school was the center of the community.
But now the area is seeing renewed interest and growth, including new business construction. It now has a population of 314.